Helloooow!
Since Fabian is ill and I have some spare time in the office, I make us of this writing a little post mortem about our booth at the Central European Games Conference.
The Setting
4 nights of stay, 1 booth, the Global Game Jam and just hand luggage. Not possible? Of course it is!
The conference took part during January 22/23 with two days of the Global Game Jam attached. And beforehand one day sightseeing tour, organised by the CEGC-Team.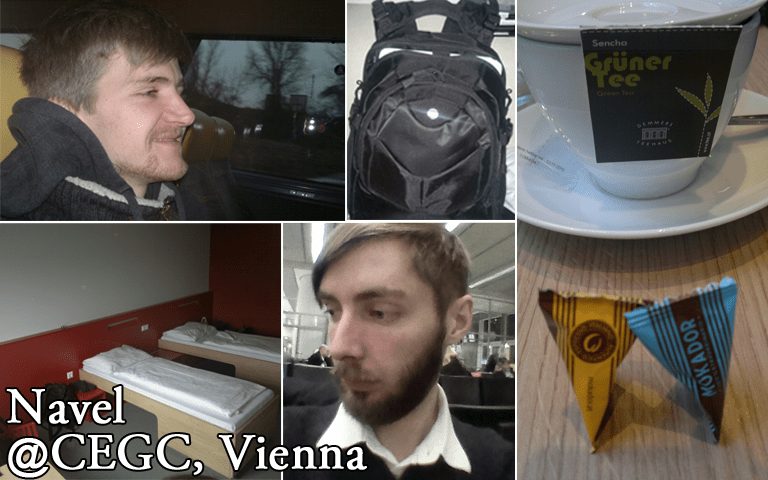 On the 21th we got up at 4:30 in the morning, catched our train to Stuttgart and were up in the air at 7:30 and had our first breakfast in Vienna 1,5 hours later.
Sightseeing and Indieseeing
The sightseeing tour started in the evening and together with a POI-game app we got some nice insights on the austrian history. After the history lessons we visited the Game Shop Subotron, which has a very nice collection of retro games, consoles and other stuff. The first game studio on our tour was Broken Rules. Awesome guys. Lovely studio. A few days ago our friends from Major Bueno visited them on their TourBueno to have a gamejam. You can view the result in their documentary.
First indie, first bee – we get on a roll. Did I mentioned that we had a great hostel? Because we only walked 5 minutes to the conference!
After Broken Rules showed us some games, they also told us a super secret thing. Oh oh oh.. But I'm allowed to present it to you – but only to you! Nah, it's already public: Their game "And Yet It Moves" got ported and published to iOS. Sorry Android. But there are a tons of other versions!
Anyway we continued our way to our last studio: Cliffhanger Productions. Yeah, they are some of the bigger indies, but they gave us nice insights about their current productions, how they grew bigger and what their feeling about this is. And, there were beer.
So don't slow down, we are coming to the end of our tour, to gather altogether in a nice restaurant. Best thing of course: Free buffet for all attendees. But they made quite a profit from alcoholics. So don't bother. At 00:30 we went home.
Conference days
On the 22th, 9:00 the first day of conference started. There were one lobby downstairs to hang out, get some coffee and snacks, three rooms for speeches and two rooms for the Indie Expo. As a rough estimate I would say there were about 30 booths altogether. The opening speech was attended by over 150 people and watches by more than 200 over the livestream. All the speeches were livestreamed AND published to youtube. That's awesome!

For us, we had a clear target on what we want to achieve. Since this was the first time, after developing our prototype about 3 months ago, to show off our game, we wanted to know what strangers will think of this concept. The most difficult circumstance we had to deal with: To have the best game experience, we needed at least 4 people – even we saw some people having fun playing it with just one friend. In the end, everytime a group played our game, they had so much fun and it was such a relief and incentive for us that the project can bring people together making a fool out of themselves with their friends.
Get some pov-impressions of people playing our game here.
Like every conference, each day it goes, the harder it becomes: To stay awake, stand tall, encourage people to play your game – instead of take a seat, drink some coffee and relax.
Life as an exhibitor
Well, get up early, get down late. And each day they both come closer together. Proportional to your level of sleepiness and intoxication. But that sounds worse than it is. We all like partying after a good day of work. And even better, on such conferences you can meet a lot of people you've not seen a long time and chat with many more while you sip on a cold beer or a fancy cocktail. You can get confused how big a bar seems until you ran against the big mirror on one wall. You can even stroll to Vienna after the last bar closes to find some place to one for the road – aka "Hangover Hello" or "Where the f* are we stranded? Oh, no credit card payment."

That's why I love drinking, ahem, being an exhibitor at conferences. So many people play your game and if you've done right, they will love your game and give you a very good boost to continue working on game even more than before.
Go, CEGC, Go! We will definitely meet again next year!